Marilyn Levin is an artist and art educator living in San Francisco, CA and Boston, MA. She received her MFA in Painting from UCLA where she studied with Richard Diebenkorn.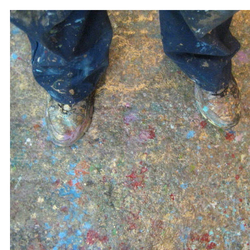 Levin has exhibited in the United States, Europe and India. Her work is represented in many public and private collections as well as several museums, including The San Francisco MOMA, the Rose Art Museum at Brandeis University, the Kresge Collection at Harvard University and the Sanskriti Museum in Delhi, India.

She has received grants from the National Endowment for the Arts, the Atlantic Center for the Arts, the Sanskriti Foundation, and the Massachusetts Cultural Council. She has taught in the Tufts/Museum School Dual Degree program for over 25 years, as well as workshops in Massachusetts, Italy and Mexico.

Her work grows out of a concern for painterly abstraction and has long been concerned with color and its relationship to reflective surfaces. Her recent work - a series of non-traditional portraits and metallic abstractions - expresses her strong political reaction to our difficult times.